Sunday 5th June. Ballydehob Community Hall, Tickets €15.
Supported by Paudie Coffey & Eddie Lee.
Doors open 8.30 pm. Limited seating, come early.
Declan was born in Drumlish Co Longford at a unique period of time in the worldwide music scene. A revolution in rock and pop brought us The Beatles, Elvis, and the Rolling Stones, while here in Ireland the magnificent showband boom was about to explode.
A young man at that time, Declan was heavily influenced by these greats and indeed was getting the rare opportunity to see most of the top showbands in his native town. From his vantage point close to the stage he would absorb every move made by the band guitarist, hoping that one day he might be up there performing just like Dan O'Hara or Seamus McMahon…
Soon enough he was saving the pennies until he was able to buy the guitar he had been drooling over in his local record shop. This led to many hours of practice alongside radio and records.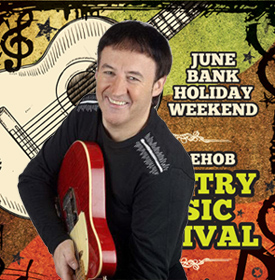 At the age of 16 he stepped in with local showband The Hi-Lo's. Later on he progressed to the Gene Stuart Band, and in following years to Brian Coll and the Buckaroos, when eventually he decided to start his own band in the late 80's. This was the period that would form his musical ability and develop his unique falsetto singing voice, which combined to create the unique Declan Nerney sound.
Join him and his super live band with support from Paudie Coffey and Eddie Lee.
This is one dance not to be missed with one of the greatest country music stars in Ireland.
"Tap your feet to the Nerney Beat!"